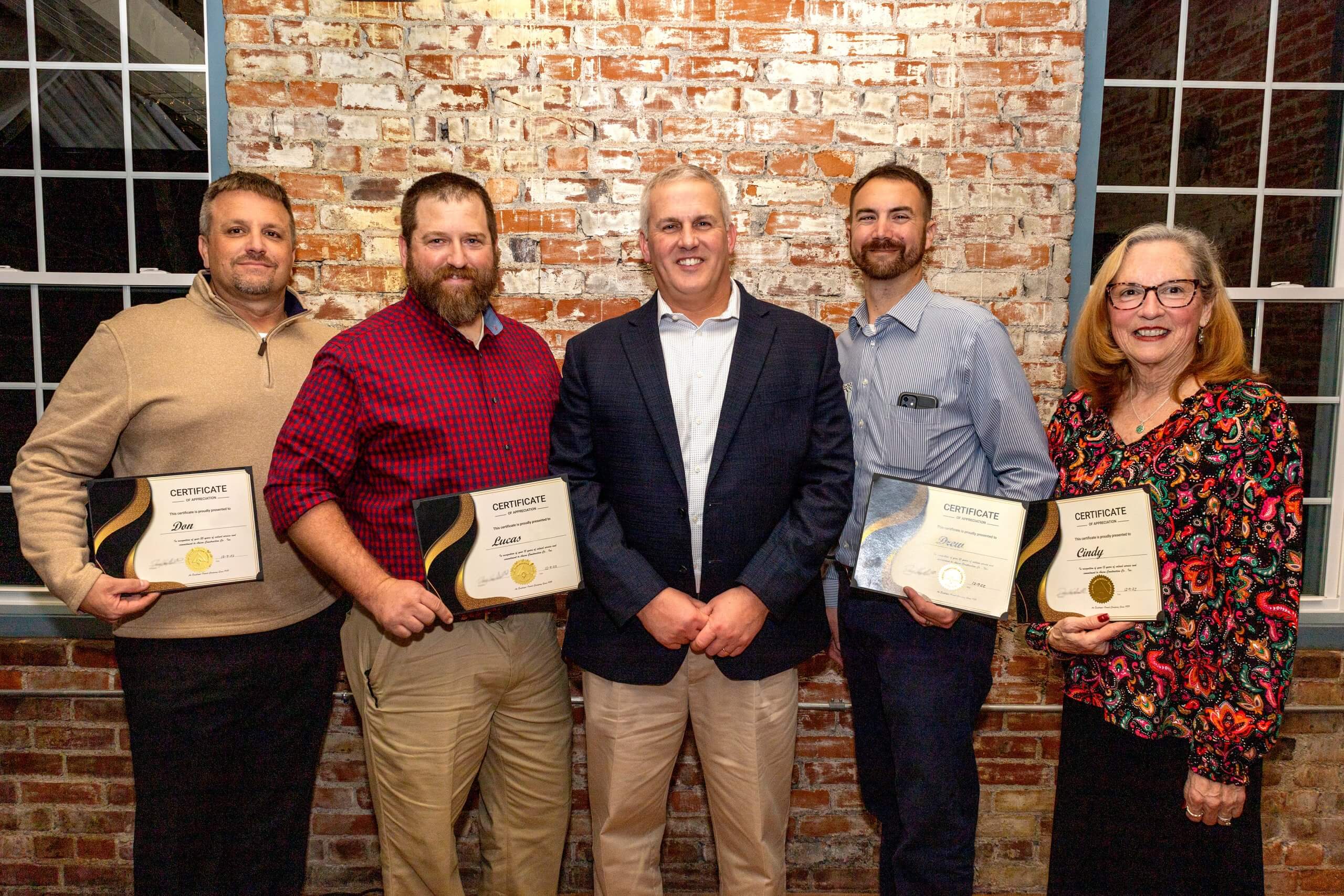 Pictured here is over 87 years of experience!
At Ancon Construction, our employees are driven by a deep love and passion for their work. This passion not only benefits our clients and community but also helps us to foster a culture of growth and development at Ancon Construction. In this picture, you can see the wealth of knowledge and expertise represented by our employees – a total of over 87 years of experience.
Lucas 
15-YEAR SERVICE AWARD RECOGNITION
At Ancon Construction, we take pride in all of our employee-owners and love celebrating years of service milestones. Meet Lucas. He's been an employee-owner with Ancon for 15 years.
"Ancon is a great company to work for. It's full of great people. I take care of Ancon, and Ancon takes care of me. I enjoy coming to work every day," shares Lucas.
We value your contributions to Ancon Construction, Lucas. Thank you for 15 years of service & dedication!
Cindy 
15-YEAR SERVICE AWARD RECOGNITION
"Cindy often makes the first impression of Ancon as she greets and welcomes clients and visitors, both in-person and on the phone," said Doug VonGunten, President of Ancon Construction. "She does a great job representing Ancon in this role. She also keeps the office organized and running smoothly. Thank you, Cindy, for your 15 years of service."
"I am grateful for all Ancon has done for me. Thank you for the 15-Year Service Award! I have always been thankful for the journey that brought me to Ancon and the Ancon family," shares Cindy.
We value your contributions, Cindy. Thank you for 15 years of service & dedication – and warm greetings with a smile!
Drew 
15-YEAR SERVICE AWARD RECOGNITION
Meet Employee-Owner, Drew. Drew was in Goshen High School's Trade Program when he was recruited by an Ancon Construction employee and hired as a first-year carpenter apprentice. Soon after, Ancon enrolled Drew in a four-year apprenticeship program where he received his Associate Degree and journeyman's card for carpentry. For the next three years, he was a carpenter in Ancon's Building Service Department – a department that does smaller new construction projects, along with renovation and repairs for commercial businesses. Soon Drew was promoted to lead carpenter and a few years later, to superintendent. In the fall of 2019, he became a project manager, followed by a promotion to department director two years later.
"I knew that college wasn't for me. Throughout the fifteen years I have been with Ancon, I have enjoyed meeting new people, clients and the simple fact that I can point out numerous projects we have built throughout the area. I'm looking forward to the years ahead!" One of his favorite projects as a superintendent was Potawatomi zoo's main entrance build, where the project's challenges motivated him.
Thank you for 15 years of service, dedication, and growth, Drew. We are thankful to have you on our team!
Don
25-YEAR SERVICE AWARD RECOGNITION
Meet Don, Ancon Construction's Director of Operations and Safety Director, who has been with the company for over 25 years!
"When I first joined the company, I was looking for direction in my career. I had tried a few different jobs but hadn't found my passion yet. That's when I discovered that I enjoyed working with my hands and decided to give construction a try. 
The team at Ancon was welcoming and supportive, and the good wages and opportunities for advancement kept me motivated. I started out as a trash picker in 1997 and never could have imagined that I would rise through the ranks to become the Director of Operations. It just shows that with hard work and determination, anyone can achieve their goals," he shares.
"As the Director of Operations and Safety Director, Don has one of the most challenging positions at Ancon. He is exceptional in this role, providing strong advocacy for our field employee-owners and an accessible bridge between the field staff and the office staff. We celebrate and thank you for your 25 years of service," shares Doug VonGunten, President of Ancon Construction.
About Ancon Construction:
Ancon Construction is a commercial in-house design-build contractor offering a full range of services, including planning, site selection, development, architectural design, rezoning, code compliance, construction, remodeling, and maintenance. Based in Goshen, Indiana, Ancon is a 100% employee-owned company and a regional leader in commercial design-build that has defined architecture and construction in the Michiana community since 1975.