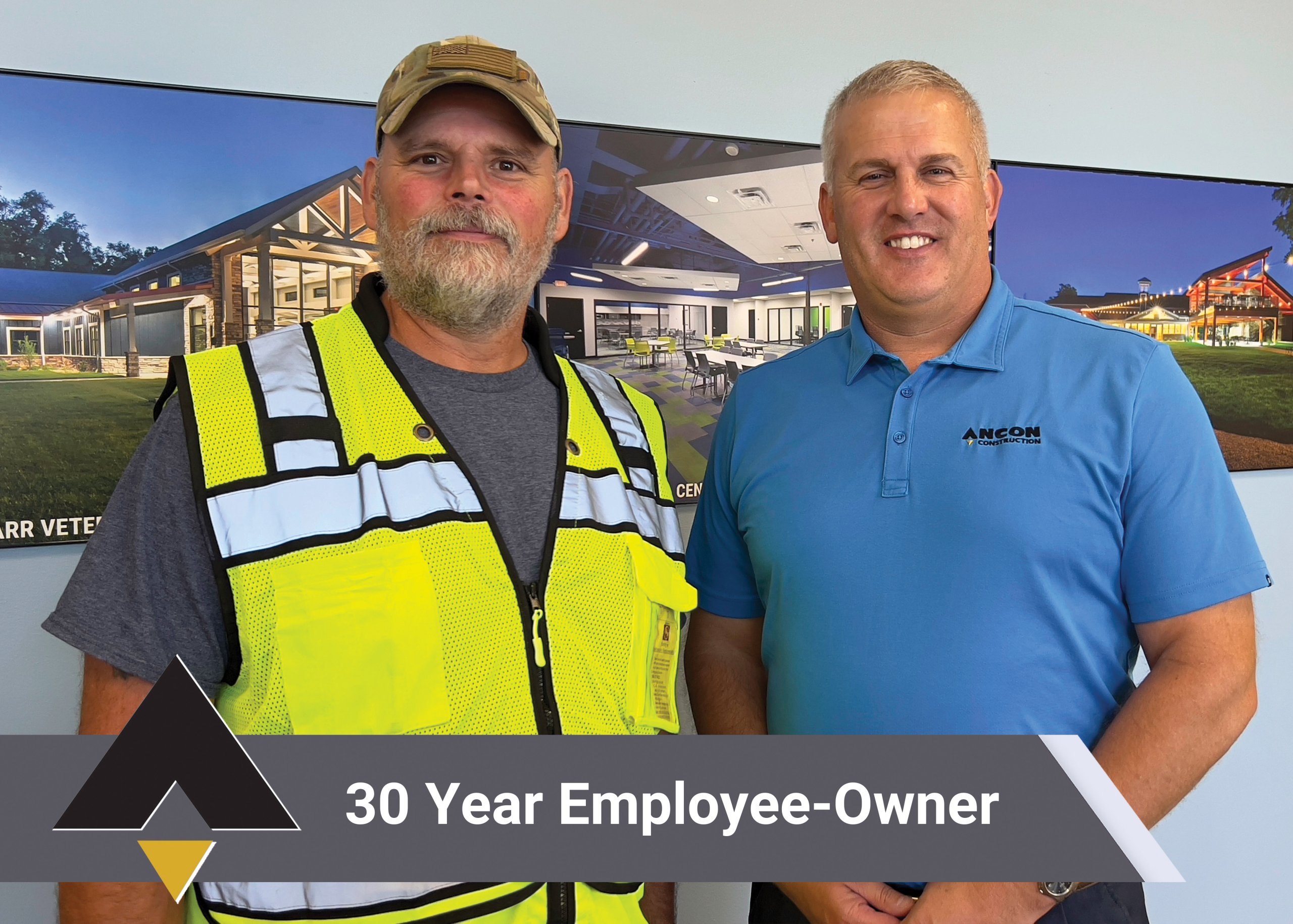 Meet Ken – 30 years of dedication and hard work
Ken is celebrating being an employee-owner at Ancon Construction for 30 years on October 25th. His journey began when he started as a laborer on the concrete crew. Prior to joining Ancon, Ken had a brief experience building furniture after coming home from the military. A year into furniture building, Ken knew the job wasn't the right fit for him. With the economic recession in full swing, jobs were hard to come by, so he started working for a temp company. One day, when Ken was on break, he noticed Ancon Construction was across the street building a project. Ken decided he'd give them a call. Shortly after that, both he and his brother started working for Ancon Construction.
Ken's commitment to Ancon Construction is evident in his long tenure and loyalty. He values Ancon's commitment to its employees. Ken reflects, "Ancon is very good about caring about their people. There is no other company like our company. Ancon wants to make sure you have a future, and they do that with stock – all of us being employee-owners."
Ken's role has evolved over the years, transitioning from a laborer to operating heavy equipment after 15 years. Subsequently, he became a finisher and form carpenter, showcasing his adaptability. "My job has changed a lot in 30 years. And I have learned a lot of new skills. Over the years, I have learned how to operate all different kinds of equipment on the job. You can't be afraid to learn something new and continue to adapt and take on new challenges."
Ken also appreciates the diverse projects and locations Ancon offers, emphasizing the company's unique qualities. He takes pride in his work. "I like to do projects the right way – I'm a perfectionist."
There are two things Ken shared he really likes about this type of work:
Each project is different. You might be pouring another footing, but it's not the same footing you did on the last project.

You are in a different area and a different climate.
Ken said his most memorable project was the Ross Laboratories (formally Abbott) built in Michigan back in the early 90's. It was a huge project, and he remembers how bitterly cold and snowy that winter was. The project was long, work hours were long, and the project involved a lot of concrete work.
Ken's 30-year journey at Ancon Construction reflects his dedication, adaptability, and appreciation for the company's values and opportunities for its employees.
Thank you, Ken, for 30 years of being a dedicated, hard-working Employee-Owner!