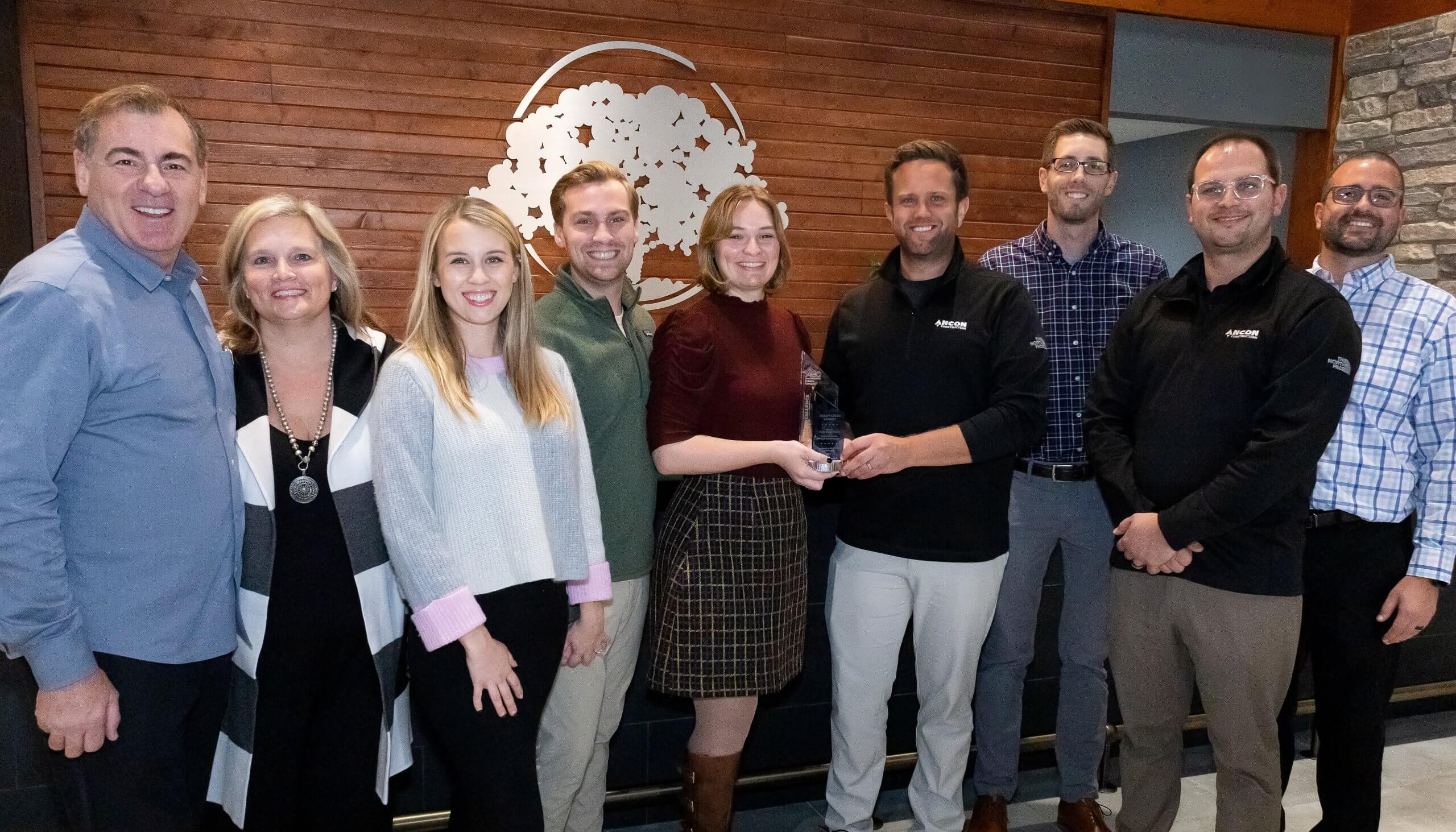 (L to R) James Schwartz, Julie Schwartz, Jenna Schwartz, JT Schwartz, and Jennifer Schwartz owners of Shady Creek Winery; Matt VanSoest Designer, Chris Morrical Project Manager, Bryan Baer Designer and Ben King Architect from Ancon Construction.
Ancon Construction Shares Construction Award with Shady Creek Winery
Ancon Construction's architectural team and project manager met with the owners of Shady Creek Winery last week to share the Associated Builders and Contractors of Indiana/Kentucky (ABC) Excellence in Construction Award. The award recognizes the winery's recently completed renovation, building expansion, and site development projects.
"With such a unique construction project, we needed the right partner to bring our vision to life. Ancon's entire team provided clear direction, attention to detail, and dedication to our project. Together, we established a gorgeous wine destination in the heart of Northwest Indiana to share with wine lovers for years to come," said JT Schwartz, President of Shady Creek Winery.
Matt VanSoest shared, "The Shady Creek Winery project was a thrilling and rewarding project for the Ancon team. The multi-year endeavor achieved a highly detailed building, intricate interiors, and strong connections to the immediate landscape. Working with the Owner and producing a project which focuses so strongly on guest user experience was a great opportunity to further our understanding of how places and spaces impact people."
About ABC of Indiana/Kentucky, Excellence in Construction (EIC) Award:
Associated Builders and Contractors of Indiana/Kentucky (ABC) seek to recognize the outstanding projects built by its members every year with their Excellence in Construction Awards. Such recognition builds greater awareness in local communities of the quality of work produced by Merit Shop contractors and their employees.
Furthermore, the Excellence in Construction competition represents the quality of the companies in the association. ABC's Award of Excellence in Construction honors the skill and creativity of the entire team – contractor, owner, architect, and engineer – responsible for an outstanding project. The award recipients excel in innovation, quality, communication, and safety.
Click here to learn more about this project.
About Ancon Construction:
Ancon Construction is a commercial in-house design-build contractor offering a full range of services, including planning, site selection, development, architectural design, rezoning, code compliance, construction, remodeling, and maintenance. Based in Goshen, Indiana, Ancon is a 100% employee-owned company and a regional leader in commercial design-build that has defined architecture and construction in the Michiana community since 1975.