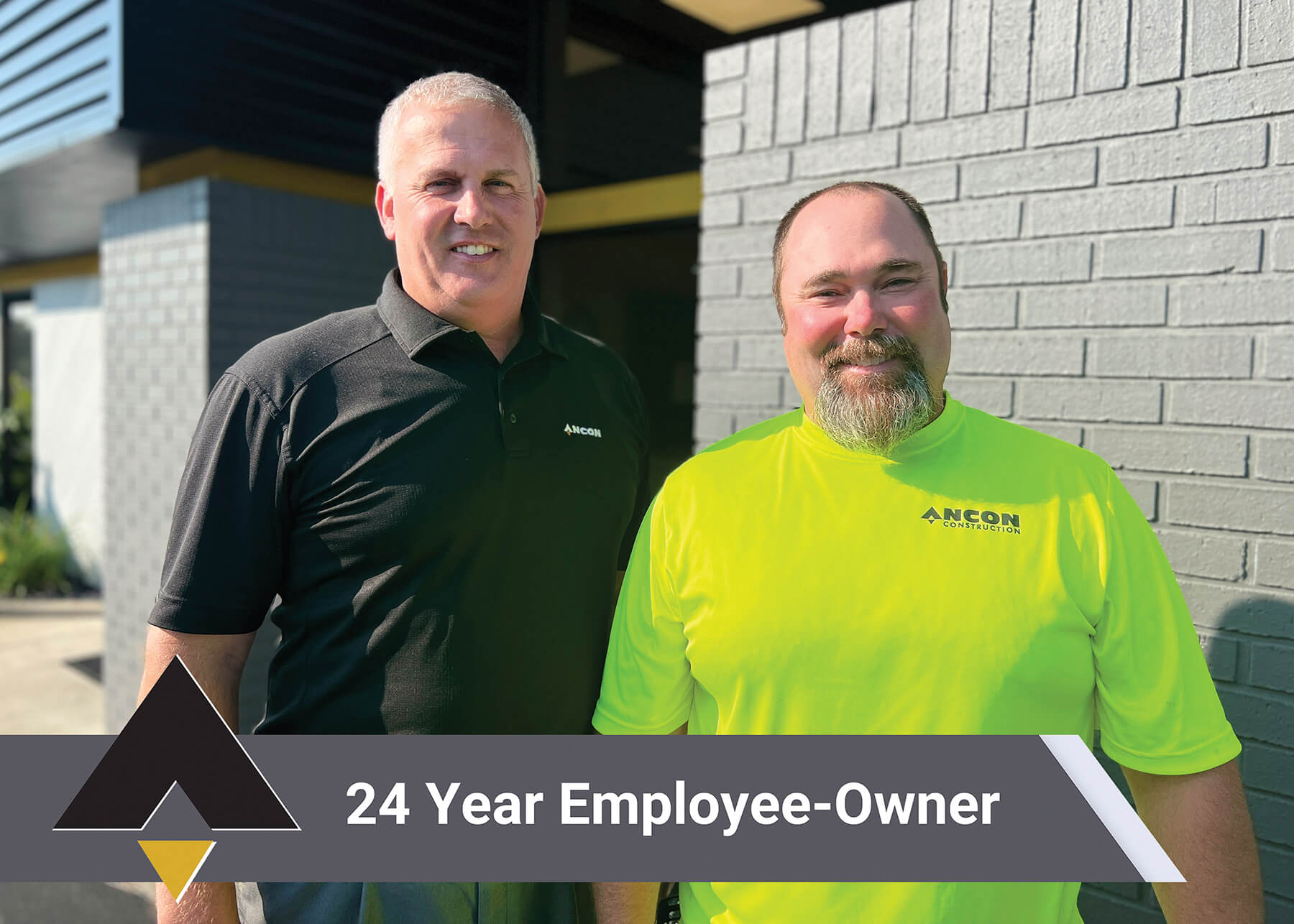 From Steel Laborer to Superintendent: Justin's 24-Year Success Story at Ancon Construction
Justin joined Ancon Construction in March 1999, shortly after graduating from Penn High School. His introduction into the construction industry came through a friend who worked on Ancon's steel crew at the time. Intrigued by the opportunity, he decided to give it a try, despite having no prior experience in construction.
Lloyd Yoder, a superintendent for the steel crew at that time, recognized Justin's potential and hired him as a steel laborer. Initially, Justin's responsibilities included tasks such as walking purlins and setting steel. As he gained experience and honed his skills, he progressed within the company. Llyod Yoder shared, "Justin was always willing to do whatever task needed to be done with a positive attitude. He always retained what worked and what didn't work so well with the assortment of tasks."
In 2011, Justin became a foreman and later advanced to the position of superintendent in 2014.
As a superintendent, Justin had the opportunity to take full responsibility for his first project, and it was a significant milestone in his career. The project was a warehouse addition for Indratech, and Justin managed it from the ground up. Working closely with Doug VonGunten, this experience left a profound impact on Justin and fueled his passion for construction.
Throughout his career at Ancon, Justin has had the opportunity to work on various memorable projects. Some noteworthy examples include the Ethos Science Center, the construction of Bethel Softball Field, the installation of a carousel at the Potawatomi Zoo, and even welding work at the South Bend Cubs' performance center. He appreciates the unique challenges and diverse settings each project brings.
Justin emphasizes the importance of continuous learning and personal growth in the ever-evolving construction industry. With each job being different from the last, he strives to learn from previous experiences and apply those lessons to future projects. He finds fulfillment in seeing the construction process through to the end and enjoys the fact that every year brings new opportunities and new challenges.
When asked for advice to those starting a career in construction, Justin highlights the value of learning from those around you. He shared, "Start learning as much as you can. Learn from the guys around you. Learn about construction from the ground up. Work with the carpenters, concrete crew, steelwork, etc. Learn a bit of everything – this makes you more valuable to you and the company. If you can challenge yourself to do all of those things, you will have a better understanding of construction and you'll be more valuable to the company because you can do anything at that point."
Justin also appreciates Ancon Construction's commitment to employee development and safety. He acknowledges the company's support in providing opportunities for advancement and education. Whether it involves going to school or participating in training courses offered by organizations like ABC (Associated Builders and Contractors). "Ancon is here to help you advance and learn new things. They are willing to put that investment in you if you are willing to challenge yourself in doing it."
Justin's employment story at Ancon Construction is one of long-term commitment, personal growth, and a passion for construction. Over the span of 24 years, he has progressed from a steel laborer to a superintendent, taking on diverse projects and embracing the ever-changing nature of the industry.