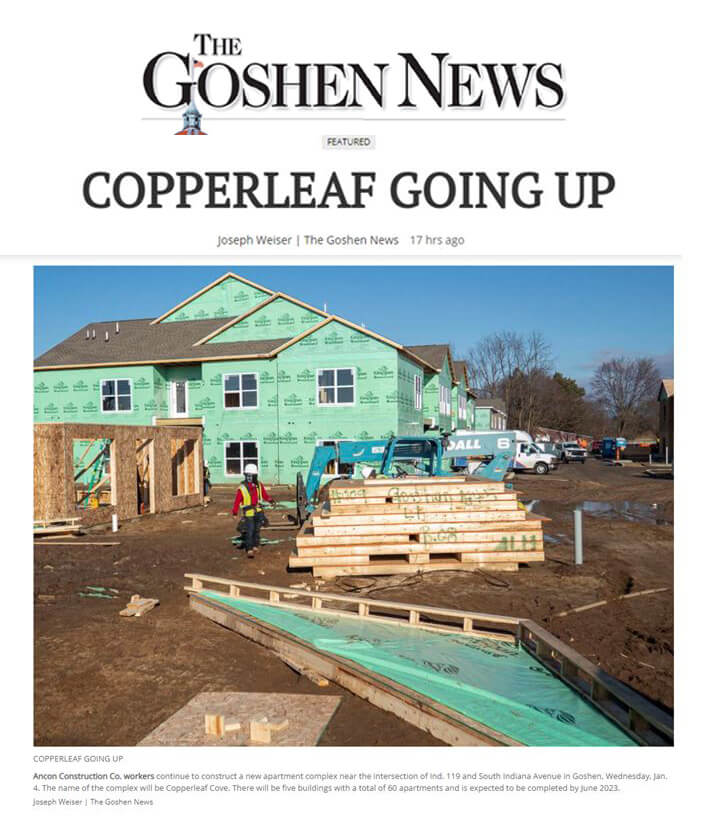 The Goshen Apartment project across from Goshen Junior High School has officially been named.
Drum roll, please… The apartment project across the street from the Goshen Junior High School has officially been named!
The Goshen News Newspaper shared an image with the official name announcement on Thursday, January 5. Click here to see the article:
https://www.goshennews.com/news/copperleaf-going-up/image_7cd62e7c-8c86-11ed-939c-2767dc8ab193.html
Per Goshen News publication on January 5, 2023:
Ancon Construction Co. workers continue to construct a new apartment complex near the intersection of Ind. 119 and South Indiana Avenue in Goshen, Wednesday, Jan. 4. The name of the complex will be Copperleaf Cove. There will be five buildings with a total of 60 apartments and is expected to be completed by June 2023.
Joseph Weiser | The Goshen News
About Ancon Construction:
Ancon Construction is a commercial in-house design-build contractor offering a full range of services, including planning, site selection, development, architectural design, rezoning, code compliance, construction, remodeling, and maintenance. Based in Goshen, Indiana, Ancon is a 100% employee-owned company and a regional leader in commercial design-build that has defined architecture and construction in the Michiana community since 1975.