Apostolic Temple Church, located on Ironwood Drive in South Bend, IN and Architect/General Contractor Ancon Construction will begin Phase 1 of a building project which aims to improve building accessibility.  The phased projects will have an initial focus on improving building accessibility.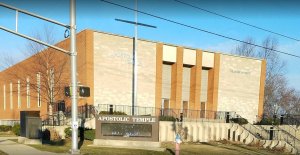 Phase 1, overseen by Project Manager Ken Wright, will include a new entrance canopy, sloped concrete walk, expanded north lobby, and a new ADA restroom.  "One of the most common ministry design challenge is overcoming barriers such as existing stairs/steps, lack of maneuvering clearance for wheel chairs, or original restrooms that do not meet current ADA compliance standards," explains Ancon Designer Matthew VanSoest.  "Solutions to these issues are typically very challenging since we have limited space to work with.  We are dealing with existing conditions from the early to mid-1900's and are trying to upgrade/modify many aspects of the built environment – bringing them to current standards and/or compliance."
For more information on Apostolic Temple Church visit www.apostolictemplechurch.com.  Does your church need an addition or renovation?  If so click HERE and one of our church specialists will reach out to discuss your project!