Groundbreaking, left to right: Jeff Showalter, First State Bank, Jim Neff, First State Bank, Amber Wolfer, Lake City Bank, Steve Brenneman, Aluminum Insights, Niles Graber Alvarez, Aluminum Insights, Jeff Miller, Aluminum Insights, Larry Siegel, Syracuse Town Council President, Sean Welty, Ancon Construction, Joe Honkomp, Aluminum Insights, Doug VonGunten, Ancon Construction, Ben King, Ancon Construction.
November 9, 2021 – Indiana-based Aluminum Insights announces its $17.5 million investment in a new, state-of-the art aluminum extrusion facility in Syracuse, Indiana. The company's equipment will be installed in a new 76,000-square-foot building, which features 500 kilowatts of rooftop solar and eight acres of native grassland and trees surrounding the plant. This investment will enable the company to serve a select group of customers in the Upper Midwest to support their extrusion needs, integrate seamlessly into their supply chain, and partner in innovation.
The extrusion press, made by Italy-based Presezzi Extrusion Group, is a world-class, 2,920-ton, 8-inch press line that includes the latest in automation and mechanical technology and advanced safety features. In addition to the highly automated press line, Aluminum Insights operates several CNC fabrication work cells that include routing, cutting and machining of extrusions.
Based on Aluminum Insights' job creation plans, the Indiana Economic Development Corporation (IEDC) committed an investment of $825,000 in the form of incentive-based tax credits. These tax credits are performance-based, meaning the company is eligible to claim incentives once Hoosiers are hired and investments are made.
"Bringing equipment of this caliber to a new facility designed specifically for this purpose will enable us to operate at a very high level from inception." said Jeff Miller, Aluminum Insights CEO. "For those in our surrounding communities interested in learning something new, this business creates unique opportunities to be part of a world-class team and world-class extrusion operation."
Miller also expressed gratitude to IDEC, the Town of Syracuse, and the Kosciusko Economic Development Corporation (KEDCO) for their assistance in making the Syracuse Technology Park the location of choice for this operation.
Site construction is underway, led by Ancon Construction. Installation of the extrusion equipment will begin in early January and is expected to be fully operational in April 2022.
About Aluminum Insights – Founded in 2020 by three local entrepreneurs, Steve Brenneman, the founder of Aluminum Trailer Company; Jeff Miller, former general manager at Chore-Time; and Niles Graber Alvarez, former consulting manager at Crowe and founder of Menno Tea. Aluminum Insights is aiming to transform the troubled aluminum supply chain in the Upper Midwest by bringing decades of experience in manufacturing and technology, combined with new, state-of-the-art equipment, to deliver a reliable, customer-centered supply of aluminum. https://www.aluminuminsights.com/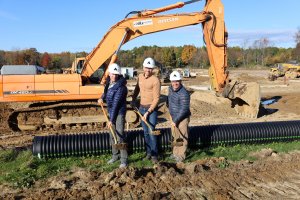 Founders, left to right: Steve Brenneman, Business Development, Aluminum Insights, Niles Graber Alvarez, Chief Financial Officer, Aluminum Insights, Jeff Miller, Chief Executive Officer, Aluminum Insights.

Rendering of new facility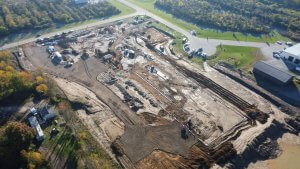 Flyover: 15305 Innovation Way located in the Syracuse Technology Park