Time, talent & treasure are all things that one can give.  ANCON Construction believes in giving all of these and we are proud to be involved, not only in our local community, but engaged throughout our entire region. Saying you are involved with the community puts a warm fuzzy feeling in your heart but recent research proves that companies that are involved in the community tend to be more respected and successful.  The May 2013 study by Cone Communications & Echo Research found that 82% of US Consumers consider Corporate Social Responsibility (CSR) when deciding which products or services to buy and who they want to do business with.
According to a recent Entrepreneur Magazine article written by Lindsay Lavine, there are four major things to consider when incorporating community service in your business plan:
1. Build relationships within your community.
Look at your community to see what's important. Are the schools struggling? Does the animal shelter need donations? For example, Cody Pierce, Vice President of Marketing for Orange City, Iowa-based Pizza Ranch franchises, says the restaurants host "community impact" nights, where friends and family members bus tables to support a local cause, such as raising money for a class trip. Pizza Ranch donates the night's tips and 5 to 20 percent of the profits to the cause, while community members often provide additional donations.
The business benefits because it fills the restaurant on a typically slow night. He says building relationships starts by making genuine connections with your customers, then finding ways you can contribute.
2. Get your employees on board.
Giving employees an avenue to give back is important to morale and builds a collaborative and inspired team. When your employees love what they're doing, they do a better job. One recommendation is that businesses offer employees an opportunity to volunteer during work hours or participate in get-togethers after work, which is more fulfilling than just meeting for drinks.
Volunteering also provides leadership opportunities for employees, which leads to increased staff performance and fulfillment and, ultimately, increased productivity and sales.
3. Create a custom volunteer plan.
It is recommended that business owners evaluate their business and employee strengths and select volunteer activities that draw upon those strengths. For example, if you own an accounting firm, you could volunteer to help a nonprofit set up their accounting practices or do their taxes.
Likewise, if you own a restaurant, consider catering a school staff meeting to show your appreciation for your local teachers. Pierce says this may open the door to future catering opportunities, an incremental way to increase revenue. Decide how much time your employees can volunteer through the business on an annual basis, taking into account your operation demands.
4. Let customers know how you're giving back.
Once you've implemented your volunteer strategy, let current and prospective customers know what you're doing by including this information on your website. Giles suggests putting a dollar amount of how much your donated time or services would normally cost next to the number of hours your employees have spent giving back so it's easy for customers to understand how much your company gives to the community.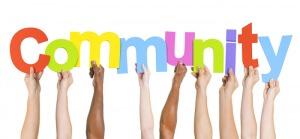 As a 100% Employee Owned company our employees have a stake in the outcome and are heavily involved in our community.  We, as owners, realize the importance of giving back to our community.  A quick snapshot of where our people give of their time, talent, and treasure include:
Concord Rotary (Past President)
Economic Development Corporation (Executive Board Member – Secretary)
Goshen Chamber of Commerce (Board Member)
Faith Lutheran Church (Past Council Chairman, Building Committee Chairman)
Goshen, Fairfield, Elkhart, Concord Schools (Career Days, Community Leadership Councils, Etc.)
Goshen Kiwanis (President Elect)
Ryan's Place (Board Member)
Walnut Hill Mennonite Church (Past building Trustee)
The Vineyard Church (Coordinator of Maintenance, (3) Haiti Relief trips, Food Pantry Coordinator)
Building Better Communities (Town of Bremen)
St. Paul's Lutheran Church (Youth Choir Director, Church Organist)
Our Corporate Social Responsibility here at ANCON Construction is widespread and very diverse.  Many of the organizations we work with are also clients.  It is a great feeling not only to design and build their buildings but then continue to play a part in their success.  Our past, current and future clients recognize the passion in which ANCON gives and we have built a reputation of trust and integrity because of that.  We love our region and are proud to play a part in building our future.