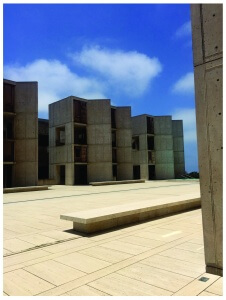 Ancon Designer Matthew VanSoest and family recently "chased the sun to the West" and vacationed in San Diego, California for the 4th of July holiday.  VanSoest had the opportunity to take an architectural tour of the Salk Institute for Biological Studies in nearby La Jolla, California.  The Salk Institute for Biological Studies is an independent, non-profit, scientific research institute founded by Jonas Salk in 1960.
Jonas Salk partnered with world renowned architect Louis Kahn to design and build a beautiful research campus in order to provide the best working environment for the world's best researchers.  The facility promotes collaboration and adaptability with its open plan.  "The layout of the labs and other support spaces can be easily reconfigurable over time", explains VanSoest.  The use of concrete and weathering teak wood features
reflect Louis Kahn's vision of buildings being "timeless" and "standing the test of time".  A water feature in the central plaza metaphorically embraces the notion of "a fountain of knowledge" (the research taking place at the facility) and how it is "carried or processed" to the rest of the world through a narrow trough. The trough spills out into a pool basin that overlooks the Pacific Ocean.  "The architect's use of materials, symmetry, the connections between the exterior and interior, a very adaptable plan, the importance of natural day light, and the visual and physical connection with the stunning site, a bluff above the Pacific, were all inspirational to see."
VanSoest concludes by stating: "It was an enriching time to visit and experience the work of a famous architect of nearly 50 years ago and gather additional ideas and concepts for future projects with our clients.  Balance and harmony between form and function, aesthetics, and cost effective solutions, found in La Jolla, California are also important to the team at Ancon in Goshen, Indiana as we continue to define Michiana through our design and construction services."  These experiences will only serve to strengthen our architectural team which, in turn, gives our clients more options when beginning the design concept.